Getting Married
Where to start...What to do first...Who to contact ...Where to go for information and ideas to start planning your dream wedding?
Our Dream Wedding Expo offers inspiration in wedding planning. We feature a bridal fashion show that will highlight the latest trends for your bridal party.
Order invitations, find the dress of your dreams, sample cake, order tuxedos, find the perfect venue, caterer, florist, photographer, dj, limo and more all in one location!
Your big day is coming, and we are ready to help you plan the wedding of your dreams!
Wedding Inspiration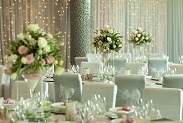 Our Dream Wedding Expo wants the two of you to have the best dream wedding.
Come see the latest trends for your dream wedding. Discover new planning ideas, and inspiration at the Our Dream Wedding Expo!
Meet premier wedding professionals ready to help you with your wedding planning and will be more than helpful in guiding you along the wedding planning process.
Spend time, shop, compare and connect with the best wedding resources.
You will leave the show a more informed wedding couple.
Lights, Camera, Action
Our Dream Wedding Expo stage entertainment is the best!
Join us for a stunning Bridal Fashion Show, Live Entertainment, and our "Game of Grooms Show" along with "bridal games."
Our Dream Wedding Expo will be sure to bring a huge smile to every attendee who experiences our shows.
A Bridal Show that is interactive and an incredibly great time!
We bring only the best in sound and lighting to provide a concert type feel to our stage and runway production.
Relax , Enjoy and let Our Dream Wedding Expo entertain you!